a "winning" basic vinaigrette: with variations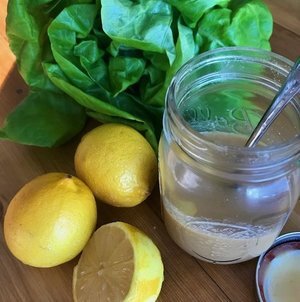 Jesse and I have an ongoing competition as to who can craft a better salad dressing from scratch. I honestly don't think that we have had a jar of store-bought dressing in our fridge in the past 7 years. Eating salad at lunch or dinner is a staple in our house, so we are each constantly trying to perfect our recipes. At any point in time, you will find a mason jar full of some type of dressing or concoction in our fridge, ready to be tasted. I sometimes complain that Jesse's recipes are too vinegary for my taste, while he thinks that mine can often be too creamy for his palate (I have a secret love affair with home-made mayonnaise!). However, after testing this Basic Vinaigrette recipe on our kids (the most opinionated judges!) and at our friends' New Year's Eve party, everyone agrees this recipe may just be a winner! My kids can't stop dipping their carrot and cucumber sticks in the jar. And, several of our friends that had the salad I brought to the party have reached out asking for the recipe...pretty flattering! 
I hope you enjoy this vinaigrette as much as we do. I think it's a nice balance between the hit of tart vinegar that Jesse loves and the creamy texture I go for (no mayo in this, I love using tahini paste as a more shelf-stable alternative). Also, please read below for some delicious variations on this dressing: Healthy Peanut Sauce for chicken and noodle lettuce cups, Citrus Glaze for marinading/grilling chicken or fish, Lemony Tequila Drizzle over tacos and a Mediterranean Marinade for vegetable kebabs. 
BASIC VINAIGRETTE (GLUTEN-FREE, NUT-FREE)
Seriously, this stuff is addictive! 
(makes about 1 cup or half of one mason jar, this can be stored in the fridge for a few weeks,  just take out and let come to room temperature before using.) 
1 large lemon, cut in half

1/2 cup white wine vinegar

1/4 tsp garlic powder (I don't recommend using fresh garlic, as it won't last as long in the fridge)

1/2 tsp sea salt

2 TBSP tahini paste (sesame seed paste)

1/2 T Dijon mustard

1 TBSP honey

3/4 cup + 2 TBSP extra virgin olive oil
In a mason jar (or a bowl), zest of one half of the lemon.

Next, squeeze in the juice of one half of the lemon.

Add the next 6 ingredients, whisking well so the acid from the lemon and the vinegar basically "melts" the honey, tahini and sea salt.

Finally, add the olive oil and mix very well (either by whisking or capping the jar and shaking vigorously).
VARIATIONS: 
HEALTHY PEANUT SAUCE (for chicken and noodle lettuce cups)
To the Basic Vinaigrette, add 1 TBSP hoisin sauce, 1 TBSP toasted sesame oil, 2 tsp soy sauce, 1 tsp red curry paste and mix well.
CITRUS GLAZE (for marinading/grilling chicken or fish)
To the Basic Vinaigrette, add 1/4 cup of honey, one orange zested, juice of half of an orange, 2 tsp soy sauce and mix well. (Marinate chicken or fish in the fridge for no longer than 30 minutes as the acid from the citrus and the vinegar will start to cook the protein)
LEMONY TEQUILA DRIZZLE (for your favorite tacos)
To the Basic Vinaigrette, add 1 TBSP tequila of your choice, 1/4 cup tahini, 1 TBSP honey, zest of one lime, 1/4 tsp chile powder, 1/4 tsp garlic powder and mix well. (If you want to thicken the sauce and cook off the alcohol, simmer in a sauce pan on medium heat for about 10 minutes)
MEDITERRANEAN MARINADE (for vegetable kebabs)
To the Basic Vinaigrette, add 1/2 TBSP fresh minced oregano, 1/2 TBSP fresh minced flat leaf parsley, 1 tsp balsamic vinegar and 1 TBSP extra virgin olive oil and mix well. (Marinate for no longer than 30 minutes in the fridge. Then, keep basting on the vegetables while grilling or roasting.)
With love,
Jane