Dessert with a (Citrus) Twist: Beet and Clementine Pudding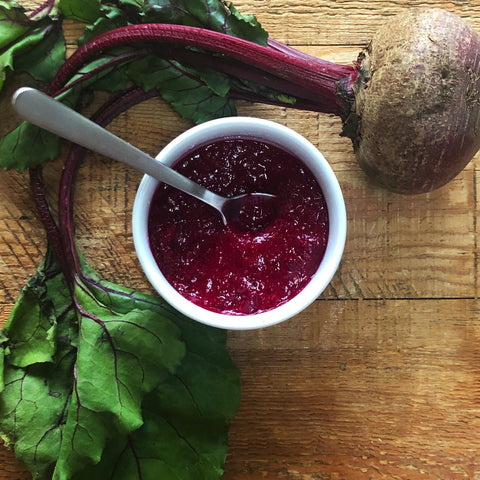 Stay with me here. In today's culinary world it's not uncommon to see beet hummus, pickled beets, beet chips, beet smoothies…even beet brownies! So, in honor of our month focusing on these amazing root veggies, I wanted to create a recipe that would pair well with Onesto's new cookies. I wanted to create a beet-inspired dessert that I could use as the filling in a cookie sandwich or simply dip my cookie into while I enjoyed a cup of tea.
When I was thinking about this recipe, I knew I didn't want it to be too sweet. It would have been easy to dump a bunch of sugar into the mixing bowl and basically make a beet candy concoction. But, I didn't want to feel sugar-shocked, as I often think desserts can be too sweet. I wanted to find a balance between the sweetness of the cookie and the earthiness of the beet. Because these veggies are sweet enough on their own, I wanted to highlight the beet's natural sweetness without masking the flavor with a bunch of sugar.
With the help of my trusty sous chef (my 11 year old daughter, Josie), I think I came up with a delicious, creamy, balanced and beautiful pudding. The addition of the clementine's zest gives the pudding a bright, happy, naturally sweet and citrus-y flavor. And, the flecks of the orange mixed in with the deep purple pudding is pretty gorgeous. too.
Recipe-making tips from Josie:
Wear an apron, the beets stain! 🤣

Use a blender to really cream the beets first, chunky beet pudding is gross. 😜

Use fresh clementine (or orange) zest, not dried.

Add the liquid S-L-O-W-L-Y.

You can always add more, you can't take it away once it's in the blender (I know this because we had to do 2 batches). 😁

Adding the flax seed is a must, it's not just my mom trying to be healthy. 🤣

The flax seed helps the pudding get thick and creamy after it sits in the refrigerator for about 15 minutes.
BEET AND CLEMENTINE PUDDING
1 small beet. roasted and cooled (for a time saving tip, buy a pre-roasted beet in the produce or deli section of the market).

Roasting instructions: wash and trim the beet, wrap in a piece of aluminum foil and roast in a 400 degree oven for about 45 minutes. It's done when a fork slides through easily.

about 1/4 cup (maybe more, maybe less) of coconut milk cream (if you aren't vegan, you can use regular cream)

1 TBSP ground flax seed

1/2 tsp vanilla extract

zest of one clementine or half of one orange

1 1/2 TBSP raw sugar
In a blender, puree the beet with a bit of the cream until silky and smooth. Slowly add in more cream until you reach the consistency you like. You will have to stop the blender and scrape down the sides a few times, as the beet chunks like to travel up the side.

Add the ground flax seed, vanilla extract, zest and raw sugar, blend for about 5 to 10 additional seconds.

Scrape into a bowl and refrigerate for about 15 minutes, the ground flax seed will help make the pudding thick and creamy.

Serve with your favorite Onesto cookie and cup of tea!
With love,
Jane