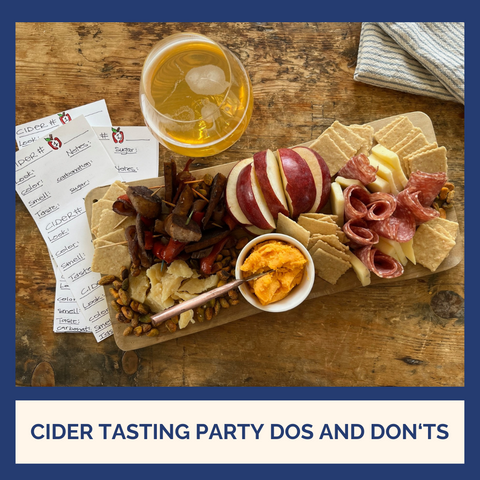 This is my favorite time of year (I say that in every season, by the way!). I love how the air is colder at night and I can sleep with my window cracked open a bit while I'm cozy nestled under my comforter. I also love all the scents coming from my kitchen during the fall months: apples simmering on the stove with fragrant cinnamon and nutmeg, hearty soups and stews cooking in my crockpot and the earthy scent of Rosemary sprigs in the oven with some kind of root vegetable. Don't even get me started on the Thanksgiving smells! 
This is the time of year when we are spending a bit less time in our backyards and more time in our living rooms most likely in front of a football game! I love hosting "Tasting Parties" with friends (new and old) for five reasons: 
1. It gets us away from the television and we actually chat with one another. 
2. It gives us all something in common to talk about, especially with new friends we don't know that well yet. 
3. It gives everyone a role in the evening. Each couple/person is responsible for bringing a dish to complement the beverage being tasted that night. 
4. It takes me (and most likely others) out of the rut of drinking the same type of pinot grigio and gets me sampling drinks and foods I never thought about before. 
5. I love planning parties and get togethers of all shapes, sizes and themes. They give me something to look forward to and an excuse to sit for hours reading through my cookbooks.  
The best kinds of foods to serve with ciders are ones that highlight the tartness of the apples and foods that balance the acidity as well. Pictured on the platter above are: 
Sharp Parmigiano Reggiano cheese 
Smokey barbeque-seasoned pistachios
Grilled kielbasa, red pepper and onion kabobs
Fresh apple slices
Smoked cheddar cheese
Thin slices of salami
Pub beer cheese (recipe below) 
Onesto sea salt crackers...of course! 
Here's my list of DOs and DON'Ts when hosting your Cider Tasting Party: 
PUB BEER CHEESE RECIPE:
3 cups shredded sharp cheddar cheese
2-3 oz softened cream cheese
1 clove garlic, minced (or 1 tsp garlic powder)
1 tbsp Worcestershire sauce (or to taste)
1 tbsp Dijon mustard (or to taste)
1 tsp hot sauce (or to taste)
1 tsp prepared horseradish (or to taste)
1 tsp smoked paprika 
1/2 tsp black pepper
1 tsp kosher salt (or to taste)
About 2/3 cup beer (think: stout, ale or craft beer)
In a large bowl add the shredded cheddar, cream cheese and roughly chopped garlic clove.  Blend until well combined.
Add all the other ingredients except for the beer. 
Slowly add the beer, a bit at a time, while monitoring the consistency (do not add it all at once or the dip may become too thin and runny).
Taste and add more seasoning if you like. 
Refrigerate for at least 2 hours and serve with crackers, pretzels, chunks of bread or veggies. 
This will last in the fridge for about one week in a sealed container.