Meatless Monday: Avocado and Cannellini Bean Toasts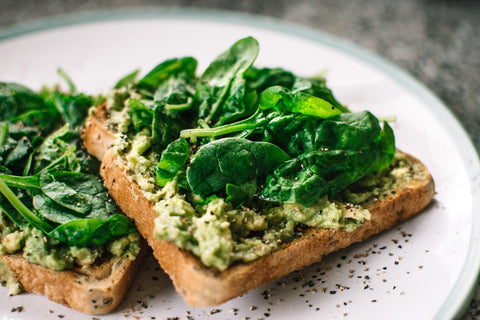 Did you know that the most popular type of avocado eaten in the US today is the Hass avocado? It was named after Richard Hass, the mail carrier/novice horticulturist who first grew and sold this fruit in 1926. His specific variation of the avocado fruit was so tasty and popular that he was able to sell them to local chefs for $1 a piece, that's equivalent to $14 in today's market! It has since gotten the nicknamed "the alligator pear" because it is shaped like a small pear and has bumpy skin like an alligator.
Avocados are one of my and my family's favorite foods, I think there have been days where we have eaten an avocado at each meal. Who doesn't love a good bowl of homemade guacamole? It's so easy to make and so delicious. If I close my eyes, I can taste the rich, creamy avocado, the crunchy granules of sea salt, the spice from the black pepper and the hint of lime juice.
Avocados aren't just tasty, they also have some amazing nutritional and health benefits. Just one half of an avocado (suggested serving size) contains the following:
160 calories

2 grams of protein

15 grams of healthy fats (omega-3 to be specific)

9 grams of carbs (although 7 of those grams are from fiber, so there are only 2 "net" carbs, making this a low-carb plant food)

0 milligrams of cholesterol

0 milligrams of sodium

14% of the recommended daily allowance of potassium (4% more than a banana!)

high levels of monounsaturated oleic acid (eating a diet high in monounsaturated oleic acid is known to reduce inflammation)

27% of the recommended daily allowance of fiber

high levels of two carotenoids: lutein and zeaxanthin, which are incredibly important for eye health (take that carrots!)
If you're looking for an easy, delicious and super healthy meatless meal tonight (or any night), try these Avocado and Cannellini Bean Toasts, I don't think you'll be disappointed! I wanted to add a bit more protein to this meal to make us feel fuller, longer. Adding cannellini beans to the mixture is a nice choice because they are soft and creamy, easy to mash with a fork and don't overpower the flavor of the avocado.
AVOCADO AND CANNELLINI BEAN TOASTS
Makes 4 thick toasts
AVOCADO/BEAN SPREAD:
15 oz can cannellini beans, rinsed and drained

2 avocados pitted, and flesh scooped out

About 1 TBSP lime juice

1/4 cup cilantro leaves roughly chopped

1/2 tsp garlic powder

kosher salt and black pepper to taste
TOASTS:
4 THICK slices of bread

drizzle of olive oil

sea salt, black pepper to taste

pinch garlic powder
Preheat your oven to 450 degrees.

Drizzle the slices of bread with olive oil and sprinkle with the sea salt, black pepper and garlic powder. Set aside.

In a large bowl, using the back of a large fork, mash the avocado flesh and cannellini beans until slightly smooth. Don't mash so much that it looks like baby food. Some chunks are good!

Add the lime juice, cilantro leaves, garlic powder, sea salt and black pepper. Don't over mix. Taste to see if you want more spices, salt or lime juice. Remember: you can always add, you can't take away!

When the oven is preheated, toast the bread for about 3-4 minutes, flip and toast the other side for an additional 3 minutes.

Remove the toasts from the oven and evenly spread the avocado/bean mixture over the four slices of toast, top with fresh spinach (optional, but highly recommended).
We love to serve this meal with thickly cut tomato slices that have been sprinkled with kosher salt and drizzled with extra virgin olive oil.
Don't forget a glass of wine! My favorite wine to serve with avocado toasts is a crispy Riesling or Sauvignon Blanc, the acidity of the wine helps balance the richness of the avocado.
With love,
Jane