Parenting Is Hard: Soup Makes It Better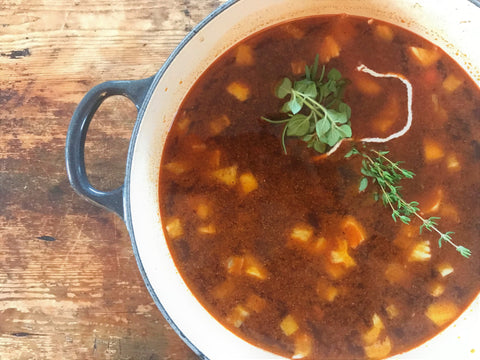 It truly does not matter what age your kids are, how many you have, what gender they identify as, what town/city you live in, what your house looks like, whether your kids attend public school, private school or are home-schooled: every single parent on this planet experiences moments of frustration, confusion, exasperation, irritation and depletion when raising a family. The reasons why I get can't sleep some nights may be very different from yours, but the fact remains the same: we are parents and we may never sleep again. 
What one considers a tough parenting day might induce eye rolling and judgement from another. A neighbor detailing her teen daughter's second suspension from school and her son's recent health scare might actually make you thankful for the sh*t storm that you thought was your life. There are so many different perspectives on parenting and countless ways in which to parent, but the facts remain the same: PARENTING IS HARD.
In my never-ending quest for not screwing up my kids' lives* (see note below), I tend to spend a lot of time worrying, analyzing, perseverating and re-analyzing  how best to help them deal with adversity, hardship and uncertainty. Should I just hold them when they're sad and not say anything or is this when I offer advice and hard-earned words of wisdom? When is it appropriate to use humor to help them cope with situations? Is this a teachable moment when I should step in or is now the time when I let them learn "the hard way"? Gah! When does parenting get easier? Will there ever be a time when I am not worried about my kids? 
Last week was a particularly hard week in our home. Both of my kids were struggling, albeit with different issues, but they were both experiencing some hard emotions. Of course, as luck would have it, my husband was in Arizona. We live in Massachusetts. I was on my own. I had no back up. I had no one to politely clear their throat from across the room and subtly motion for me to just stop talking. There was no one else for my kids to go to if they thought my advice sucked. I was all they had last week. I could not mess this up. I was sure I was going to mess this up. 
Here's the funny thing about having to step up and be there for someone: we usually find a way to do and say the right things when someone needs us. Last week, my kids needed me and I am so thankful that I was there. When they needed me to sit with them and just listen, I did. When they needed some advice or words of encouragement, I offered them. But, mostly they just needed to know they weren't alone, that I was next to them for what ever came their way. I was there to remind them that they are strong, brave and kind people able to do strong, brave and kind things. Maybe, just maybe I wasn't going to mess this one up. 
Like every good Italian, when those I love are hurting, I turn to the kitchen. What I struggle to say in words, I can articulate with my food. Homemade food has (and always will be) an extension of one's love, compassion and support for those in need. Has a friend ever dropped a meal at your door when you're going through a challenging time? Homemade food is a salve for our hurting, tired, depleted souls. 
So, naturally last week, I made a huge pot of warm, nourishing soup. I wanted my kids to be enveloped by my love as soon as they got home from school. To me, a meal of soup signals that we can take our time, we can sit for a while, we don't have anywhere to be. There is something inherently slow paced and nurturing about eating a warm bowl of soup, for it is nearly impossible to be in a rush with a bowl of broth in front of you! It was over a couple of hearty meals of homemade Smoked Paprika and Vegetable Soup served with crusty, toasted bread that was slathered with butter and sprinkled with sea salt that my kids and I talked, listened, laughed and cried together. Did my soup or I fix everything for them? Hell no, but I didn't try to either, I just made sure they knew I was there for what ever they needed and I wasn't going anywhere. Did I analyze, perseverate and re-analyze everything I said after my kids went to bed? Hell yes! What good mother wouldn't? 
SMOKED PAPRIKA AND VEGETABLE SOUP:
(makes about 6-8 servings)
Drizzle of extra virgin olive oil

2 medium carrots, sliced 

1 medium zucchini, cut in half lengthwise and chopped

1/2 large yellow onion, chopped

3 ribs celery, chopped

2 cloves garlic, minced or 3/4 tsp garlic powder

1/2 tsp kosher salt

1/2 tsp freshly ground black pepper 
1 rounded tsp smoked paprika powder
8 cups vegetable broth

4-5 sprigs of fresh thyme or 1 tsp dried thyme

2-3 sprigs of fresh oregano or 1 tsp dried oregano

2 bay leaves
1. Drizzle the olive oil into a Dutch oven pot and place over medium heat.
2. Put all the veggies (carrots through garlic) in the pot and season with salt, pepper and smoked paprika. Toss to coat.
3. Sauté for at least 8-10 minutes, until the vegetables have browned a bit and your kitchen smells amazing! 
4. Slowly pour the vegetable broth over the veggies, turn heat to low and simmer, uncovered. 
5. Using a piece of kitchen twine, tie the fresh herbs into a bundle and add to the soup. If you don't have fresh herbs, add the dried herbs now. 
6. Add the bay leaves and stir the soup carefully until herbs are submerged.
7. Simmer on the stove for at least 90 minutes on low heat. Do not let it boil as the mixture will reduce. Give it a stir every once in a while. The longer the soup can simmer, the more concentrated the flavors will be.
8. Serve immediately with crusty, toasted bread slathered with good butter and sprinkled with big flakes of sea salt. 
Remember to remove the bundle of herbs and the bay leaves before serving. 
This soups lasts for up to 1 week in the fridge or up to 6 months in the freezer. 
To make this soup even heartier add a cup of cooked rice, quinoa or pasta to each bowl just before serving. 
 With love,
Jane 
 * I have come to the conclusion that I will never get this parenting/mothering thing right. I mess up, a lot. I sometimes say things I shouldn't and I react in ways I later regret. I have decided it is much healthier for my family if I re-adjust my Mom Goals from Carol Brady to Claire Dunphy.