Platters: Some Things Are Better Together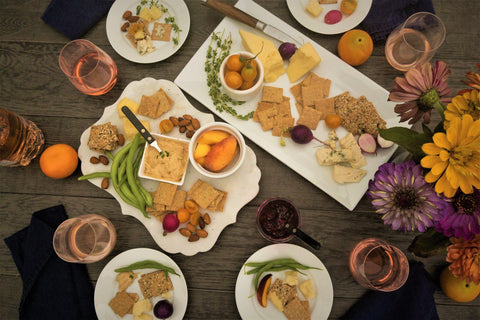 Somethings are just meant to go together: peanut butter and jelly, Bert and Ernie, apple pie and vanilla ice cream, Simon and Garfunkel. Sure, there are many duos out there that can exist on their own, they can stand on their own two feet. For example, chocolate is amazing. I love chocolate. I eat chocolate. But, when I dip a ripe strawberry in a pot of melted chocolate…I need a minute. It's the same with cheese and crackers. I love our crackers (yes, I am very biased). I often eat our crackers straight from the box. But, when I put a platter together that pairs our crackers with cheeses, dips, spreads or roasted veggies, magic happens.
In our home, we often make platters for dinner. Why should cheese and crackers be limited to an appetizer? With the right ingredients, a platter can be a hearty, healthy and delicious meal. Some of my favorite nights are when we are gathered around our big farm table chatting, eating and comparing our "cracker builds". We love pairing our crackers with different flavors and textures to see who can come up with the best combination. There never is a clear winner, but that doesn't stop us from trying.
Platters are also a fabulous way to use up food in your fridge or pantry that you may have forgotten about. Hello apricot chutney hiding in the back! They don't have to be pretentious and shouldn't require a second mortgage to put together. Use what you already have, take a risk, think outside the box. Wondering if something will taste great on your platter? You won't know if you don't try! The platter pictured above is made from ingredients that were already in my fridge. I did not go to the store to buy one single item for this photo, I promise.
When creating your own platter: be adventurous, have fun and use what you have…there's probably a lot in the back of your fridge, too.
Here are some of my family's favorite pairings:
Onesto Sea Salt Crackers and…
Sun Dried Tomato Hummus

Almond Butter and Strawberry Jam

Cheddar Cheese and Green Apple Slices

Ricotta Cheese and Roasted Cherry Tomatoes

Melted Chocolate and Crushed Almonds

Smoked Gouda and a Smear of Whole Grain Mustard
Onesto Rosemary Crackers and…
Provolone Cheese and Roasted Green Beans

Asiago Cheese and Peach Slices

Parmigiano Reggiano Cheese and Thinly Sliced Salami

Plain Hummus and Slivered Scallions

Cream Cheese and Thinly Sliced Fresh Figs
Onesto Everything Crackers and…
Creamy Brie and Fresh Basil

Ricotta Cheese and a Drizzle of Local Honey

Cream Cheese and Smoked Salmon with Fresh Dill

Fresh Made Guacamole and a Cherry Tomato

Cheddar Cheese and Thinly Sliced Black Forest Ham
The only way to make these duos even better…add wine and make it a trio!
With love,
Jane