Quarantine Snack: Red Pepper Hummus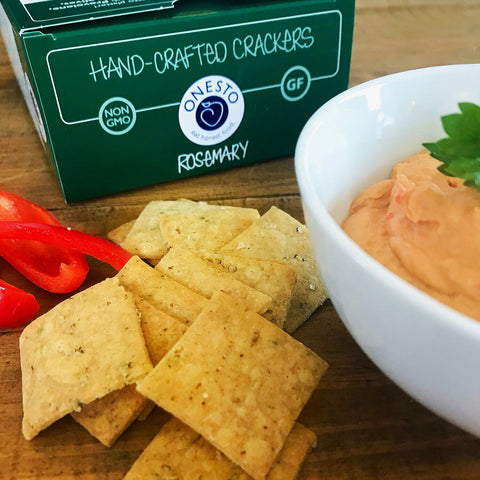 We just found out yesterday that my kids' school is cancelled for the rest of the school year. There were a lot of tears shed yesterday. Not from my kids, but from me. After reading the news each morning, I've been very forthcoming in saying, "Let's be realistic, you won't be going back to school, we're going to be home together…forever". But, when the call actually came, I was in shock. There was a small part of me that was holding out hope that they might actually be able to go back to school, back to their friends, their teachers, their sports, their routines. My tears weren't from a place of dread or even panic that I can't do "this" anymore. I was mourning the loss of my kids' school year, the loss of their blissful innocence.
But, I have to remind myself that there are silver linings to all of this, we just have to look. We're eating together as a family every single night. We're doing fun, family workouts in our backyard, our dogs are getting the best walks of their lives and we're spending more time in the kitchen testing and creating recipes together. I am getting used to being home with everyone (every day, all day) and I am loving many aspects of it. Our daily rhythm is peaceful, slow and simple and we honestly don't lose our **it on each other until at least 4:30pm.
This recipe for Red Pepper Hummus was created one afternoon when my kids wanted some hummus, but I didn't feel like putting on my face mask and gloves and heading to the supermarket, so I used what we had in our pantry. The results? One fantastic quarantine snack that was super easy AND kid approved! We've even made it a few times since, omitting the red pepper and adding extra lemon in one and some spicy tomato paste in another. Remember to serve with some tasty and crunchy Onesto crackers for the perfect Quarantine Snack!
I wish you each lots of love and healthy wishes,
Jane
RED PEPPER HUMMUS
1 x 15 oz. can garbanzo beans (chick peas), drained

1/3 cup tahini

2-3 TBSP fresh squeezed lemon juice (about half of a lemon)

2 cloves garlic (chopped) or 1/2 tsp garlic powder

1/4 cup roasted red peppers (I used the jarred kind)

kosher salt to taste

black pepper to taste

olive oil

water
In an electric food processor, combine all of the ingredients (EXCEPT for the olive oil and water).

While the motor is running, drizzle the olive oil into the machine until the mixture is smooth and creamy. If you want to reduce the olive oil you are using, you can also substitute water.

Taste and adjust the salt/pepper accordingly.

Transfer hummus to small bowl, cover and chill until you are ready to serve.