Spring Salad: Asian Lettuce Cups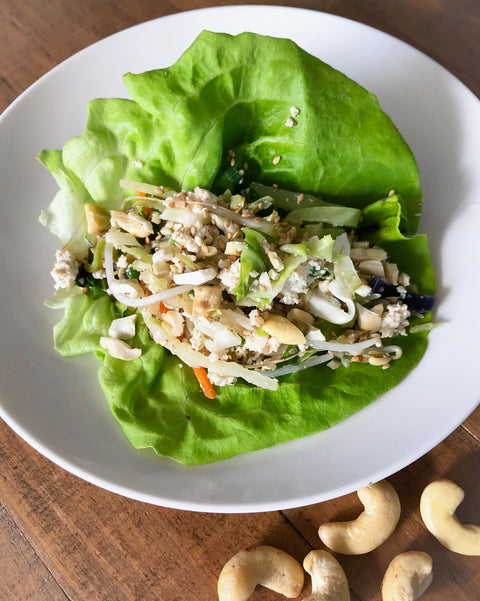 I love spring lettuce. The leaves are so sweet, tender and have such a delicate earthy flavor. And, their vibrant lime green color makes me feel healthier just by adding the lettuce to my cart! I also know that my family loves when the salads I make are not overly traditional. Any meal where my kids don't have to use utensils is a home run in our house. According to them, no one uses forks anymore. But, then again, they also claim that "none of their friends clean their rooms". Can you see my rolling my eyes?
This salad is packed with flavor and contrasting textures (always a favorite when I am creating recipes). The warm, sauteed veggies are a great complement to the sweet, cold lettuce "cup". The crunchy chopped cashews are a wonderful contrast to the smooth, crumbled tofu. And, the sesame seeds add a nutty, toasted element to the dish. You can spice up the filling by adding a few shakes of hot sauce, gochujang sauce, or red curry paste (a personal favorite).
You can save time and make this recipe even easier by using pre-shredded carrots and cabbage, found in many grocery stores today. I always have raw cashews in our fridge, but you can use roasted cashews, peanuts or almonds as well!
With love and health,
Jane 
ASIAN LETTUCE CUPS
Makes enough for 6-8 people as a main meal.
1 TBSP sesame oil

1 x 12 oz bag of mung bean sprouts

2 cups shredded cabbage

2 cups shredded carrots

1/4 cup green onions (white and green part) thinly sliced

1 x 14 oz package of firm tofu, crumbled or cubed

1/4 tsp garlic powder or 1 clove fresh garlic, minced

1/2 tsp kosher salt

2 TBSP gochujang or red curry paste (optional)

3 heads of Butter Lettuce (also called Boston Bib or Living Lettuce) -washed and dried
GARNISH:
about 1/4 cup cashews (or your favorite nut) chopped

about 1 TBSP toasted sesame seeds
Heat the sesame oil in a large skillet and add the bean sprouts, cabbage, carrots, green onions, tofu, garlic, salt and gochujang or curry paste and mix well.

Saute for at least 15 minutes. Let the veggies cook down and the sauces and spices get incorporated into the mixture.

Turn off the heat and let cool on the stove a bit.

Spoon a heaping mound of the filling into one of the lettuce cups and enjoy!