The Coastal Table: Guest Post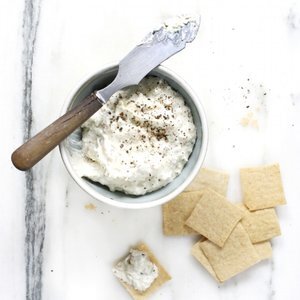 To say that we have a love affair with the magazine The Coastal Table and it's publisher and founder, Karen Covey is an understatement. It is rare when a magazine sits on our coffee table for more than 3-4 weeks. However, Karen's magazines have become fixtures in our home, we have kept every single edition we receive in the mail. In fact, the word magazine just doesn't seem to adequately define this work of art. The pictures are gorgeous, the recipes are amazing, and the stories she and her team tell are beautifully written. It is such an honor to have Karen share one of her amazing dips for our blog this week. And, it's perfectly timed for Superbowl Sunday this weekend! I know what I'm bringing to our friends' party...
HERBED SHRIMP DIP
Be sure to serve the dip with the best crackers, and our choice is Onesto crackers. They're gluten free (but completely don't taste it), super flavorful and made locally in Vermont. You can read more about them here. 
Ingredients: 
2 lemons, divided

1/2 pound shrimp, peeled and deveined

8 ounces cream cheese, at room temperature

2 tablespoons sour cream

1 tablespoon minced fresh flat-leaf Italian parsley

1 teaspoon Dijon mustard

Kosher salt, to taste

Freshly ground black pepper, to taste

Crackers, for serving
1. Fill a saucepan with water. Bring to a boil. Cut 1 lemon in half and add halves to water. Add shrimp and cook for 2-3 minutes, until shrimp turn pink. Remove with a slotted spoon and place in an ice bath. Once cooled, pat completely dry. Roughly chop shrimp, leaving some pieces bite-sized. Set aside. 
2. In a bowl, add cream cheese, sour cream, zest and juice from 1/2 lemon, parsley, and mustard. Season with salt and pepper. Stir mixture until well combined. Fold in shrimp. Taste for flavor and adjust as desired (if mixture is too thick, add an additional lemon juice). Transfer to a serving bowl, cover with plastic wrap and chill for at least 1 hour before serving.
Serves 6-8.
Karen J. Covey
Founder + Publisher, The Coastal Table Magazine
Folio: Winner for Best Epicurean Consumer Magazine, 2017, 2016
Folio: Finalist for Overall Magazine Design, 2017
thecoastaltable.com