Meatless Monday: Avocado Toasts with Beet Puree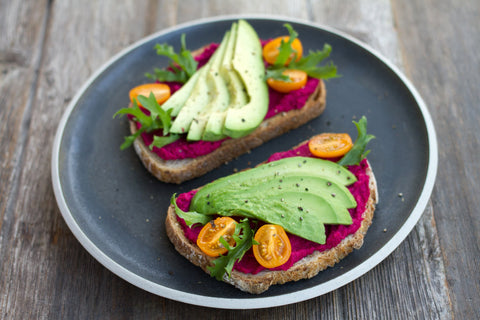 Considering that today is the day after the Superbowl, I thought it was a good idea to share with you a delicious, heart healthy and satisfying dinner idea. Plus, this recipe is full-on-color. Eating food that naturally has bright vibrant colors just makes me happier and I feel healthier. This dinner will (almost) negate the buffalo dip, nachos, chicken wings and craft beers from yesterday. Well, almost. If you indulged a bit too much yesterday, you're certainly not alone. What better day to get back on the track of healthy eating than on Meatless Monday?
When I was looking online for some avocado toast inspirations, I came cross this gorgeous picture and I knew I had to recreate it. Who knew there were so many versions of avocado toasts? My version of this dinner is full of textures and flavors: the toasted bread, the soft avocado and the crunchy granules of the salt and pepper hit all my requirements. The beet puree is slightly sweet but has a tang thanks to the vinegar and shallots. And, the slight bitter taste of the winter greens helps to balance the sugar content of the beets. If you're "iffy" on beets, give this recipe a try. I don't think you'll be disappointed!
Here's a sneak peak: during the month of February, we're focusing on some heart healthy and easy recipes. Beets have so many health benefits and because they are a winter root vegetable, they're available in abundance right now. Eating in season is a wonderful way to take advantage of cheaper grocery bills, ensure you're eating food that was grown closer to home, and feel confident that the produce you're eating is at its freshest. You had me at cheaper grocery bills.
AVOCADO TOASTS WITH BEET PUREE
2 pieces of your favorite seeded bread

drizzle of olive oil

2 small raw beets, washed, scrubbed and cut into small chunks (wear gloves or an apron as beets stain horribly!)

1 TBSP sliced shallots

1/3 cup chick peas, rinsed

1/4 cup tahini (sesame seed paste)

1 TBSP olive oil

1 tsp Dijon mustard

1/2 tsp garlic powder

1 tsp sea salt

1/4 tsp freshly ground black pepper

few dashes of apple cider vinegar

water, if necessary

cherry tomatoes, halved

2 avocados, pitted and sliced

handful of winter greens (baby kale or baby mustard greens are great!)

sprinkle of sea salt

sprinkle of freshly ground black pepper
Drizzle each piece of bread with olive oil and broil in the oven for about 4-5 minutes. Watch so that they toasts don't burn.

In a food processor, combine all the ingredients for the beet puree (beets through apple cider vinegar) and blend well. You may need to scrape the sides down and add some water if the puree is too thick.

Spread a bit of the puree onto the toasts and top with slices of avocado, halved cherry tomatoes and winter greens. Sprinkle with a bit of sea salt, black pepper and enjoy.
This dinner is wonderful paired with a cold, dry Pinot Grigio.
This recipe will give you way more beet puree than you need for this dinner. Store the remainder in a sealed container in the fridge for about 7-10 days. Use as a dip for veggies, a spread for your favorite sandwich or tossed with some cooked noodles and vegetables for a wonderful pasta salad.
With love,
Jane