Super Bowl Party: BYO Vegetarian Chili and Cornbread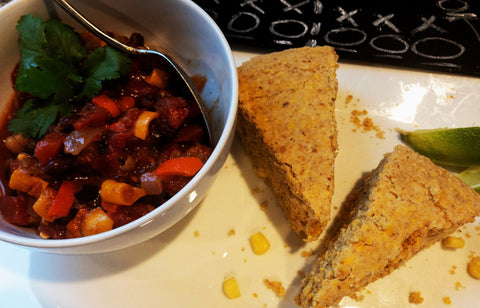 Did you know:
that the Superbowl is the 2nd biggest food-focused holiday in America? (Thanksgiving is No. 1)

that the average American consumes 2,400 calories and 120 grams of fat during the 4-5 hour game alone?

that there is a 20% rise in the purchase of over the counter antacids after the Superbowl?
It's no wonder that nearly 17 million Americans will call in sick to work the Monday after the big game.
Even though the New England Patriots are not in this year's Superbowl, I know that my family and I will be surrounded by friends, food, drinks and festivities this Sunday.
As you may recall from an earlier blog post, one of my favorite ways to ensure that I will have some healthy options when I go to a party is to offer to bring food. This way, I can plan ahead and know that there will be at least one healthy, vegan option for me to eat. This chili is so hearty and satisfying that I won't be tempted to make poor decisions because I'm hungry and surrounded by food. I am not so rigid that I won't try another person's dish, but if I have a plan ahead of time, I am less likely to overeat and regret my decisions the next morning.
I have tried to fight it for a while, but I think deep down I just feel better with a plan (food related or otherwise). I want to be the care-free, "go with the flow" person when it comes to food, parenting, socializing, exercising… But, I know myself too well. When there's a plan in place things go smoother, I am less stressed, I make better decisions and I enjoy myself more.
Several years ago, when planning our family's summer vacation to the Cape, I lobbied hard for the "let's-just-wait-till-we-get-there-and-see-what-we-feel-like-doing" vacation. Why did we have to make plans ahead of time? I had visions of us sleeping late, lounging around, leisurely exploring the town, biking to the beach and meandering our days away in the sun. Um, that's not what actually happened. This was not our best vacation. I will save you the details, but it was scarring for all of us.
So, rather than fight the need for a plan, I have embraced this part of me. I want to feel good before, during and after a Superbowl (or any) party. I don't want to wish that I wore elastic waistband pants, I don't want to be up all night with heartburn and an upset stomach. So, I am going to make and bring my Vegetarian Chili and Cornbread and feel good about my Superbowl plan.
As for our 2020 summer vacation, I have already booked the house, started researching restaurants, local attractions and activities for us to do…we will not repeat the summer of 2016.
VEGETARIAN CHILI AND CORN BREAD
1 large yellow onion, diced

2 large bell peppers. seeds removed and diced (I used red and orange peppers to add color to the chili)

drizzle of olive oil

about 1 tsp sea salt

about 1/2 tsp of freshly ground black pepper

1/2 tsp garlic powder

2 tsp chili powder

about 1 heaping TBSP fresh oregano, minced (if using dried oregano, use 1/2 tsp)

1 x 15.5 ounce pouch or can of black beans, rinsed and drained

1 x 15.5 ounce pouch or can of chick peas, rinsed and drained

1 x 15.5 ounce pouch or can of kidney beans, rinsed and drained

1 x 28 ounce can of diced fire roasted tomatoes (I used Muir Glen)

1 x 4 ounce can of diced green chiles

1/4 cup nutritional yeast (this will give the chili a creamy texture and slightly cheesy flavor)

1 cup dry red wine

3 cups water

fresh cilantro and wedges of lime for garnishes

hot sauce, optional

tortilla chips, optional
In a large stock pot, heat a bit of olive oil over medium heat. Add the onions and cook for about 5 minutes, until they start to get some color to them and soften a bit.

Add the diced bell peppers, sea salt, black pepper, garlic powder, chili powder and oregano and cook for about 10 minutes, or until both vegetables are soft, caramelized and fragrant.

Add the beans, the fire roasted tomatoes (and their juices), green chiles and nutritional yeast and mix well. Let this cook for about 5-7 more minutes.

Finally, add the wine and water and stir well. Reduce heat to simmer and let cook down for about 30-45 minutes. Stir every once in a while and if it's getting too dry, add a bit more water.
CORN BREAD
I love this recipe because we bake it in our cast iron pan. It's so easy, and it's fun for the kids to make. They recently told me it makes them feel like they are camping outside when we cook on cast iron. I have no idea why, because we certainly don't lug our cast iron cookware with us outside and we don't camp.
2 cups almond or oat milk (or cow's milk if you prefer)

1/4 cup apple cider vinegar

2 cups oat flour

2 cups finely ground corn meal

1/2 cup raw sugar

1 tsp baking soda

4 tsp baking powder

1 tsp sea salt

3 TBSP ground flax meal

1/4 cup melted coconut oil (or butter if you prefer) plus a bit more for the pan

2 cups frozen corn kernels (optional, my kids don't like corn kernels in their cornbread but I do)
Preheat your oven to 350 degrees.

In a medium bowl, combine the milk and vinegar and set aside (this will curdle and that's exactly what you want-you're making a home-made buttermilk and that will give the corn bread a delicious tangy flavor)

In a large bowl, mix all the dry ingredients (oat flour through flax meal)

Add the melted coconut oil (or butter) and the curdled milk mixture and mix until JUST incorporated-don't over mix as it will keep your corn bread from getting fluffy and rising.

Slowly fold in the corn kernels (if you're using them).

Coat a medium sized cast iron pan with melted coconut oil or butter (If you don't have one, you can use a large cupcake tin or an 8 inch square baking pan)

Pour the batter into the pan, it's okay if it reaches the top.

Cook for 20 minutes or until golden brown (when you insert a toothpick in the center it should come out clean)

Garnish the chili with some fresh cilantro and a wedge of lime

If you like your chili with a kick, add a few dashes of hot sauce before serving
My kids love to add more butter to the top of the warm cornbread, I love to dip mine into the chili. Another delicious option is to serve your chili with tortilla chips, they make a great "spoon" to scoop up the chili!
With love,
Jane