Meatless Monday: Winter Lentil Stew Over Creamy Grits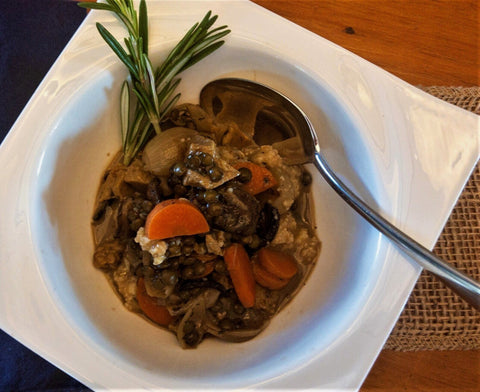 When I made this stew last week, my kids were both at basketball practice. As soon as they walked in the house, I heard from the mudroom, "Mom, what smells amazing? It smells like a restaurant!" Insert happy dance and huge smiles from me. This stew is the epitome of comfort food. I have a soft spot for a meal in a bowl, but this is the next level: creamy grits topped with big pieces of winter veggies in a rich vegetable broth. My family hates mushy veggies, so I am always mindful to keep them slightly firm in my recipes. Mission accomplished with this stew. And, for the adults in the crowd, this meal is off the hook when served with a big, bold Cabernet Sauvignon or an earthy Zinfandel.
A stew simmering on the stove + a glass of red wine = more reasons why I love winter in New England.
WINTER LENTIL STEW OVER CREAMY GRITS
about 2-3 TBSP olive oil

2 cups sliced mushrooms (I used a combination of baby bellas and cremini)

About 4 large carrots sliced into thick half moons

About 2 cups raw pearl onions, halved (if you can't find raw pearl onions, use sweet white onions and cut into chunks)

1 cup dried green lentils, rinsed

About 6-8 cups vegetable broth (if you opt for canned/boxed, make sure it's low sodium)

1/4 cup nutritional yeast (this adds a cheesy flavor and extra protein to the stew)

2 TBSP miso paste (I used azuki bean paste)

garlic powder

sea salt and freshly ground black pepper to taste

1 TBSP minced fresh herbs (rosemary, thyme, sage)
Heat a stock pot over medium high heat and drizzle with a bit of olive oil, make sure the pot is HOT.

Add the mushrooms to the pot in batches, about a quarter cup at a time. If you add them all at once, they will just end up steaming and they'll get mushy. Sprinkle with a bit of sea salt, pepper and garlic powder. Let the mushrooms cook for about 5-7 minutes on one side and then flip over and cook for an additional 5 minutest. Transfer the cooked mushrooms to a bowl and repeat process until all mushrooms are cooked. I know this sounds like a lot of time, but it will be worth it in the end. You will have slightly crispy, chewy mushrooms not soggy ones!

Next, add the carrots, a sprinkle of sea salt, pepper and garlic powder (if you need more olive oil, drizzle some in the pot) and cook until slightly browned, they don't have to be cooked through, as they will cook in the stew.

Add the miso paste and stir to make sure the carrots are coated.

Remove the carrots from the pot and add the onions, pinch of sea salt, pepper and garlic powder and saute for a few minutes (I like to season at each step instead of adding all the spices at once. This adds depth to the dish and makes sure each bite is packed with flavor).

When the onions are almost done cooking, add the nutritional yeast and stir gently, careful not to break or mash the onions. Remove the onions from the pot.

Reduce the heat to medium and add the lentils to the same pot and stir well to break up any of the vegetable bits on the bottom. Add a bit of olive oil, sea salt, pepper and garlic powder. Saute the lentils for about 5 minutes.

I cook my lentils like I am making a risotto so that they stay slightly chewy and don't fall apart. I start by adding one ladle full of vegetable broth to the pot and simmer until the broth is mostly absorbed. Then, I repeat 4 more times (using 4 ladles of broth). This whole process should take about 20-30 minutes. This is a wonderful time to listen to music, have a glass of wine, enjoy the smells and sounds of our food cooking.

After the last ladle has been mostly absorbed, add the mushrooms, carrots and onions back to the pot. Stir well to get up all the browned bits at the bottom of the pot.

Add 2 more ladle fulls of broth and simmer until the stew is thick and creamy. If you like it even creamier, add more nutritional yeast. If the stew is too thin, increase the heat and cook until the broth cooks down. I don't have a magic number of how long this will take. I just occasionally taste a lentil here and there. When they're at the consistency that I like, I turn the heat off.

Now it's time to make the grits!
CREAMY GRITS
1 cup ground grits

3 cups water

2 cups cow's milk, half and half or dairy-free milk (I used oat milk in my recipe)

sea salt to taste

1/2 tsp garlic powder

healthy pinch ground pepper
Over high heat, bring water, grits, and sea salt to a boil in a heavy saucepan with a lid.

Reduce heat to medium and stir in the milk (or half and half), garlic powder and pepper and simmer until grits are thickened and tender, 15 to 20 minutes. Be careful as the grits will pop and may splatter. I use the pot's lid to protect myself!

When the grits are the thickness you like, turn off the heat and cover to keep warm. Taste a bit to see if it needs more salt. I tend to add more than in other recipes as the grits can be flavorless.

Spoon a healthy amount of grits in a bowl (add more sea salt or spices if you like!).

Top with a generous portion of the Winter Lentil Stew and garnish with some of the fresh herbs.
With love,
Jane