Mother's Day Recipe: Creamy Roasted Cauliflower Casserole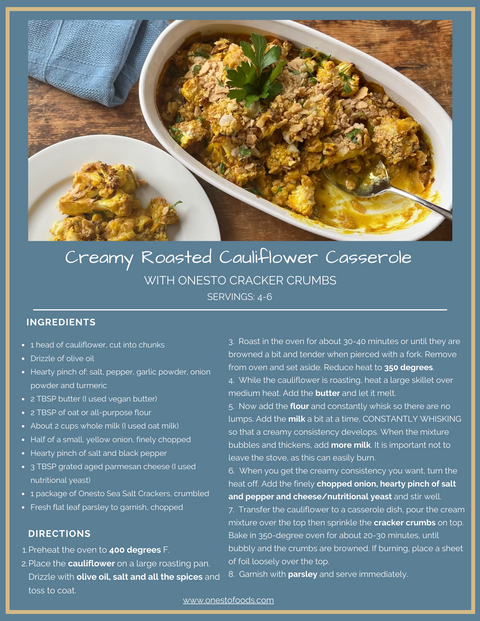 If you are on this blog because you took our Mother's Day Quiz from our recent email, welcome! 
As you (hopefully) already knew, the answer to the quiz was Number 5 (all of the above).
While I won't be able to clean your house for you (I can barely keep my own house clean), keep your kids from arguing (I have been known to hide in my room from my teenaged kids' rants) or pay for that trip to the Virgin Islands (I'd be happy with a night in my garage if I had some wine and no one bothered me), I CAN help you create a healthy and delicious meal that the mom in your life will LOVE! I am a firm believer that the meals that we make for those we love taste better and mean more than anything else we could buy from a store. 
If you are looking for something else to serve with this casserole, try serving it with a grilled piece of tofu, chicken or salmon with roasted Yukon gold potatoes and a spinach salad tossed with olive oil and balsamic vinegar. Don't forget a bottle of chilled Pino Grigio and Mom will be happy long after you do those dishes for her. 
With love and admiration to all those AMAZING moms out there. 
- Jane :)
Creamy Roasted Cauliflower Casserole
Ingredients:
1 head of cauliflower, cut into chunks
Drizzle of olive oil Hearty pinch of: salt, pepper, garlic powder, onion powder and turmeric
2 TBSP butter (I used vegan butter)
2 TBSP of oat or all-purpose flour
About 2 cups whole milk (I used oat milk)
Half of a small, yellow onion, finely chopped
Hearty pinch of salt and black pepper
3 TBSP grated aged parmesan cheese (I used nutritional yeast)
1 package of Onesto Sea Salt Crackers, crumbled
Fresh flat leaf parsley to garnish, chopped
Directions:
Preheat the oven to 400 degrees F. Place the cauliflower on a large roasting pan. Drizzle with olive oil, salt and all the spices and toss to coat. 
Roast in the oven for about 30-40 minutes or until they are browned a bit and tender when pierced with a fork. Remove from oven and set aside.
Reduce heat to 350 degrees.
While the cauliflower is roasting, heat a large skillet over medium heat. Add the butter and let it melt.
Now add the flour and constantly whisk so there are no lumps. Add the milk a bit at a time, CONSTANTLY WHISKING so that a creamy consistency develops. When the mixture bubbles and thickens, add more milk. It is important not to leave the stove, as this can easily burn.
When you get the creamy consistency you want, turn the heat off. Add the finely chopped onion, hearty pinch of salt and pepper and cheese/nutritional yeast and stir well.
Transfer the cauliflower to a casserole dish, pour the cream mixture over the top then sprinkle the cracker crumbs on top. Bake in 350-degree oven for about 20-30 minutes, until bubbly and the crumbs are browned. If the crackers start to brown too much, place a sheet of foil loosely over the top.
Garnish with parsley and serve immediately.
Store in the fridge for up to 3-4 days as this doesn't freeze and re-heat well.